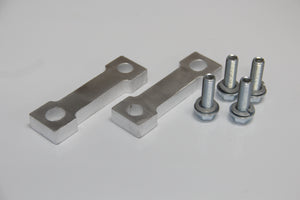 90-97 Steering Rack Spacers
MiataSource 90-97 Steering Rack Spacers. These spacers have been designed in house and laser cut. Includes new extended hardware for a bolt-in application. 
Steering rack spacers are used to reduce the bump steer on lowered Miatas. The lower the car is the more aggressive the angle on the tie rods becomes. Since the subframe/body is being lowered but the wheel/knuckles stay in the same position. Shown in the diagram below. 
The MiataSource Steering Rack Spacers will raise the steering rack 1/2"(12.7mm). This brings most of the lowered cars back or close to stock geometry. Our spacers will affect the alignment and will require full alignment after installation. MiataSource spacers are also Spec Miata compliant. 
Included:
Steering Rack Spacers
Extended Steering Rack Mounting Bolts
Lock Washers