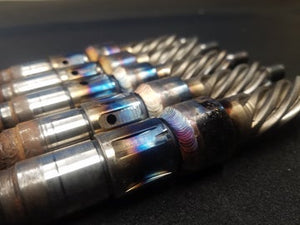 DIY SERVICE Miata Depowered Pinion Welding LABOR
90-05 Miata Depowered Pinion Welding Service. For you DIYers we have been asked enough to offer a welding service for the pinion shaft. Send us your pinion shaft and we can provide a TIG welded pinion to assemble yourself. Don't forget to order our plug kit to finish off the depowered rack. 

Turn around time is about 5 business days from pinion shaft arrival. Customer must provide shipping to MiataSource and we will provide return shipping. Customer is responsible for packing the pinion to avoid damage/insurance. MiataSource is not responsible for lost/damaged pinions during transit. 
Customer is agreeing to sold as-is and MiataSource is not responsible for the assembly of the steering rack or any issues. Service is non refundable or returnable. 
To order the service, please purchase the service and email sales@miata-source.com to receive the shipping address.